Blog
The Difference between Cosmeceutical and Cosmetic Skincare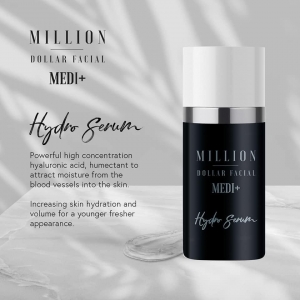 Have you ever thought "Why would I pay more for skincare products from a salon or skin clinic when there is plenty of choice on the high street? After all, if it's good enough for Eva Longoria, then it's good enough for me?"
Well, the difference all comes down to the amount of active ingredients in the products. Take hyaluronic acid serum for example. Hyaluronic acid is one of the most popular and current ingredients in skincare for providing hydration, plumpness and youthfulness to the skin. So can there be much difference between one brand of hyaluronic acid serum and another?
The answer is yes without a doubt! If we look at cosmetic brand L'Oreal's Revitalift Hyaluronic Acid Serum, which is splashed all over our magazines and TV adverts, has the face of Eva Longoria fronting it, and claims that "1 is sold every minute", it sounds great! But the percentage of hyaluronic acid in this serum is 1.5%. The percentage of hyaluronic acid in a cosmeceutical grade serum such as the Million Dollar Medi+ Hydro Serum, is 15%. A huge difference!
And to get a bit more "sciencey" the molecules in the cosmeceutical grade serum are smaller (of a lower molecular weight), which means they penetrate into the deeper layers of the skin (the dermis) rather than just the surface layer (the epidermis).

So the moral of the story is....don't be taken in by big budget media campaigns with celebrity endorsements. Look instead at the percentage of active ingredients in the products you buy.
The following analogy sums it up well..."Buying cosmetic skincare as opposed to cosmeceutical is the equivalent of licking a paracetamol to cure a migraine!"
There is truth in the saying "you get what you pay for", and your skin will thank you for it.



'Like' us on Facebook for all
the latest products, news and offers