Blog
How to Winter Proof your Skin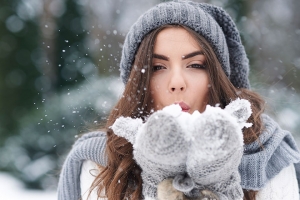 Is the winter playing havoc with your dry skin?
Dry skin is caused by insufficient secretions of sebum, which is the skin's natural oil that keeps the skin soft and supple. Insufficient sebum causes the skin to become flaky and dry to the touch, and it will feel dry and tight especially after washing.
Dry skin is identified by fine lines around the eyes, mouth, and neck, which is caused by poor elasticity. Dry skin is aggravated by dry atmospheric conditions, especially at this time of year with harsh weather, central heating and car heating .
Characteristics of a dry skin
Small tight pores.
Flaky skin.
Redness, uneven pigmentation, and visible dry patches.
Milia may also be present more so on dry skin.
Fine texture and skin that looks thin, showing capillaries.

Recommendations ….
Avoid long hot showers and take shorter warm ones instead, or swap for baths with nourishing oils.
Look for humectants and emollients like the Medi+ Nourishing Balm or the beautiful lightweight cleansing lotion "Remove +" which is gentle enough for face and eyes for even the dryest skin . For exfoliation try using washes that contain AHAs like our "Glyco Wash." This will gently exfoliate without using abrasion.


Don't put away the SPF. Although UVB rays are lower in winter, there are still enough UVA levels to age our skin. The good news is our Replenish+ moisturiser contains SPF 20, or for ultimate protection layer with Shield 50.


Consider professional skin treatments.
Winter is an excellent time of year for facial peels. In the summer sun there's a greater risk of post inflammatory hyperpigmentation after peels so make the most of this time of year. A peel will remove the dead skin cells allowing for better penetration of skincare products.
Microneedling will stimulate cell renewal and collagen production, resulting in a brighter glowing skin. It is ideal to have a facial once a month during winter as this is the time it takes for the skin cells to go through their full renewal cycle.
Layer up at bedtime
Using a richer 'recovery mask' product at bedtime can help protect the skin barrier and add extra moisture. Medi+ Nourishing balm can be left on overnight for a luxury nourishing night treatment. It can also be used as a lip treatment for preventing sore chapped lips, and on cuticles which tend to get drier and rough in the winter. Also try applying to hands and wearing cotton gloves overnight. Not to mention its use as a gentle cleansing balm, it really is a winter must have multi use product.
Top tip
Apply your moisturiser straight away as soon as you step out of the shower. I recommend the Medi+ "Hydro Serum" and "Replenish+" This will help with avoiding TEWL, (trans epidermal water loss), which makes your skin feel dry , tight and irritated.

Medi + Recommendations...
Million Dollar Medi+ is a range of cosmeceutical grade skincare products. Cosmeceutical or medical grade products have a high percentage of active ingredients compared to products you would pick up from the chemist. In addition to this the ingredients used have a smaller molecular weight, meaning they will penetrate the skin more easily.
Step 1 Double cleanse using our Dermacleanse , Nourishing Balm, or Remove + .
Step 2 For exfoliation I recommend using the Glyco Wash 2 or 3 nights a week. This is an effective, non abrasive exfoliator.
Step 3 Morning Hydro Serum is excellent for use on dry or prematurely aging skin. Pair this with Replenish + moisturiser with its peptides that offer softening, moisturising, and exfoliating properties.
Step 4 Night time Retinight which contains retinol, is a night moisturiser that will help to boost skin cell renewal and rejuvenate the skin.
The Medi + Nourishing Balm can also be used at night for that ultimate soothing effect on a very dry skin as its emollient base has antibacterial properties. It is extremely hydrating and has been used to help with rashes, stings, and burns.
You can book into the salon for a complimentary free skin consultation and advice specific to your personal skin concerns.



'Like' us on Facebook for all
the latest products, news and offers