Blog
7 Must Have Products in your 50's, 60's and 70's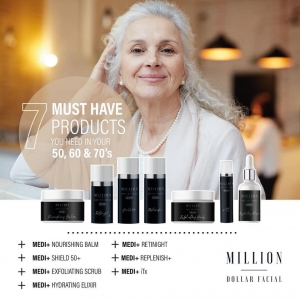 We have never looked so good in our 50's, 60's and 70's.
We all want to look our best so here are a few tips on which products can work for you.
Even if you've been taking great care of your skin your whole life, you will still be seeing the signs of ageing by the time you reach your 50's, 60's and above. However with continued preventative care and the correct products for addressing these concerns, you can keep your skin looking great for longer!
Why does our skin change so much as we age?
Skin thinning and slackening - With continued loss of collagen and elastin the skin will start to appear slackened. This is often most noticeable around the jaw, neck, eyes and mouth. However you may also notice loose or crepy skin all over your body.
Fine lines and wrinkles - After many years of laughing, smiling, frowning and crying we may have a few rested lines now.
Dryness - With less frequent cell turnover, decreased oil production and slower toxin removal your skin may appear dry and dull. The change may be thought of as going from a glowing finish in your 20's and 30's to a matte finish in your 40's, 50's, 60's and older.
Hyper/hypo-pigmentation - Changes in the shade of your skin may appear as spots of discolouration, or more widespread areas where the skin tone is lighter or darker due to years of sun exposure.
1. Medi+ Nourishing Balm - a must have versatile product that can be used as a cleansing balm, a rich moisturiser for dry or irritated patches, a lip or cuticle balm or an overnight repair balm.
2. Medi+ Exfoliating Scrub - a luxurious exfoliator with natural mineral particles and papaya extract to gently remove dead skin cells and brighten the complexion. This one smells amazing!
3. Medi+ Hydrating Elixir - a beautiful rich blend of natural plant extracts. A few drops of this oil gives extra hydration. This can be applied alone or under moisturiser.
4. Medi+ Replenish+ moisturiser - a gorgeous day moisturiser with an SPF 20 coverage. Aloe Vera hydrates, soothes and calms the skin.
5. Medi+ Retinight - a rich night cream with Glycolic acid to refine the skin and reduce fine lines, Aloe Vera to hydrate and soothe, and the wonder ingredient hexapeptide to smooth and plump out the skin while you sleep. Vitamin A helps increase cell turnover and encourage collagen production.
6. Medi+ iTx Eye Cream - containing Hexapeptide to relax the muscles around the eyes and iron out lines and wrinkles. Also containing emollients and vitamins plus aloe vera to soothe any puffiness away.
7. Shield 50 - a weightless SPF 50 moisturiser with the summery fragrance of cucumber and the soothing benefits of aloe vera. Protects skin from the damaging effects of free radicals and the ageing effects of the sun. For maximum anti ageing benefits this should be applied Avery morning, even in winter!
Million Dollar Medi+ products are of a medical grade strength with a high percentage of active ingredients and a low molecular weight so they penetrate into the deeper layers of the skin.
A monthly facial such as the Million Dollar Facial will also make a huge difference in your journey to hold back the clock! This facial increases cell turnover and collagen production, reduces lines and texture issues and evens out pigmentations...what more could we ask for?!
The Million Dollar Medi+ products are available to purchase here on this website. X



'Like' us on Facebook for all
the latest products, news and offers